Based on the research, the below highlights show how Business Intelligence is helpful across various areas. 
Nearly 26% of the companies have started adopting BI.

Approx 50% of the increase in customers and teams is observed in using Power BI after the pandemic.

The decision-making is increased by 5X times in various businesses.

67% of companies now have access to business intelligence tools.

37% of large-sized companies are expected to use decision intelligence by 2023.

The global market will reach $33.3 million by the year 2025.
The above stats prove that all businesses seek excellent visualization and data representation. The main aim is to attract users and grow their business globally. 
Overview
Power BI, Microsoft's leading business intelligence tool, has revolutionized how organizations visualize and analyze their data. With extensive features and capabilities, Power BI stands out among its competitors, offering unique and advanced functionality that sets it apart. In this in-depth technical blog post, we will explore some of the most advanced and exclusive features of Power BI that empower users to make data-driven decisions like never before.
Dataflows and Power Query
A Dataflow is a data transformation service that runs on a cloud-independent Power BI dataset. Moreover, leverage the Power Query Engine by using Power Query Online and UI to simplify the data transformation. Moving on with Power BI Dataflows, it's one powerful and cloud-based data preparation and transformation solution.
It helps utilize Power Query, where users create dataflows that connect to various data sources, applies transformations, and store them to get the best data result in the Common Data Model format. 
How it helps organizations?
Initially, it helps to get centralized data preparation and transformation logic and promotes reusability and

collaboration

among data professionals.

Second, it schedules data refresh and ensures updated data which is readily available for reporting and analysis.

Furthermore, it integrates with Azure Data Lake Storage Gen2 to enable advanced analytics and machine learning capabilities.

The integration is done through Azure Machine Learning and Azure Databricks.
Example:
Users can create dataflow using the Power BI desktop tools. The best way to do it is on a cloud, while with Power BI service, one can use it in the workspace. Here's how to create dataflow, connect with the tool and fetch data.
Source: Microsoft
Advanced-Data Modeling with DAX
A data visualization tool developed by Microsoft helps to transform the way Data analytics works and solves the organization's problems. DAX (Data analysis expressions) comes with a powerful formula language for creating advanced data models and driving insightful reports and visualization.
While DAX is mainly used for function collection, constant, and operation to create Power BI expression and other data analytics services such as Excel Power Pivot, Microsoft SQL Server, and more. 
What are the unique capabilities DAX brings to organizations?
DAX's time intelligence functions help users perform time-based calculations, including year, quarterly, and month-over-month comparisons.

DAX advanced filtering enables users to apply complex filters to their data while allowing them to control displayed visualizations precisely.

DAX custom aggregations create custom aggregation functions like weighted averages or custom ranking to tailor data models to their unique business requirements.
Example: Here's how data models can be designed by using best practices.

Image, 'a': How data models can be designed 
Example of how a power BI Data set looks like:

Image, 'b': How a power BI Data set looks like
When image 'a' Data model and 'b' Power BI connects

Image, 'c': Power BI connects with the data model
Power BI AI Capabilities
There are a lot of organizations that are keen to rely more on data than make data-driven decisions. Therefore, to make a better decision, we need excellent insight only offered by Power BI. Use Power BI to get the best visualization and better understand the tools and techniques. Further, use the AI capabilities to empower users to incorporate machine learning and natural language processing into their analyses. 
What are the features included in Power BI to help the organization?
Power BI AI visuals come with a key influencer and decomposition tree visual to enable users to explore data and uncover insights using the best method.

Power Bi integration with Azure Machine Learning allows users to incorporate custom machine learning models into their reports and dashboards.

Power BI Q&A functionality enables users to ask queries about their data in natural language, returning relevant visualizations and insights.
The following figure shows Power BI that automatically opens AI reports as below: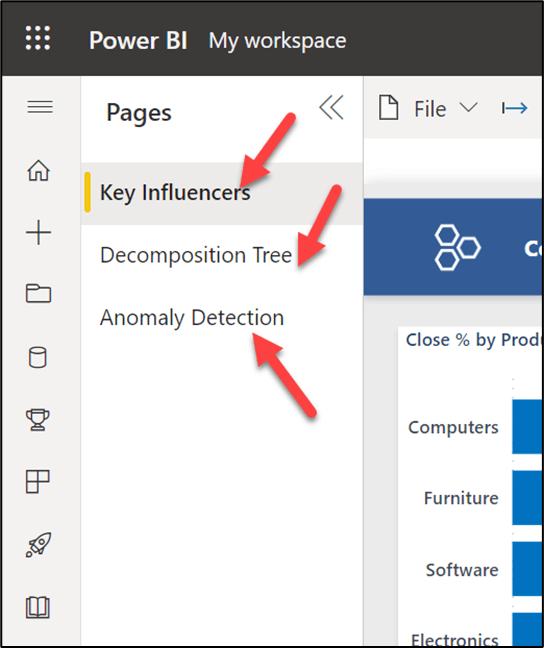 Page blade in the workspace
After display report looks like below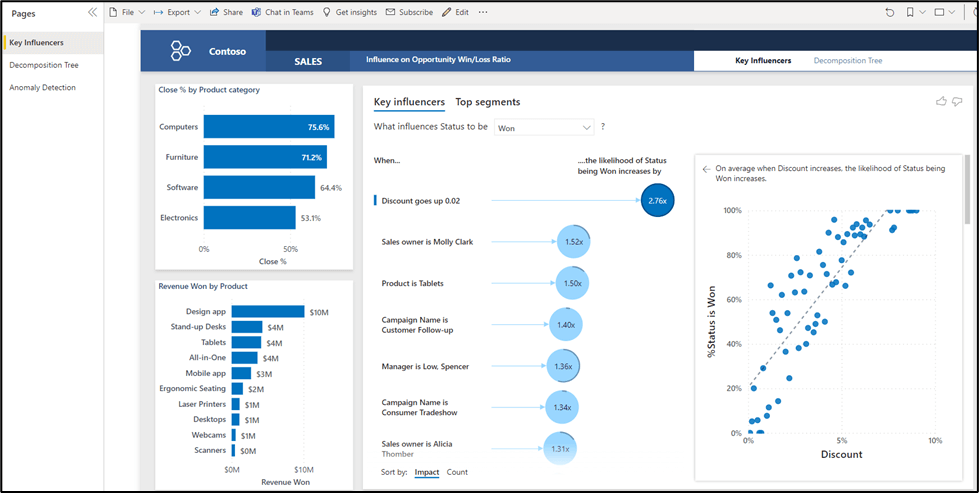 Custom Visuals and Extensibility
Power BI comes with various default visuals; one can get from an App source. If the specific visual is unavailable, one can use custom visuals development to get one. Moreover, Power BI comes with distinct management possibilities, including embedded Power BI content to push data into Power BI datasets. 
It supports various custom visuals and extensibility options, enabling users to tailor their reports and dashboards to their unique requirements. One can build custom connectors to connect it with data sources used in standard Power BI service.
What are a few key features included in Power BI?
Power BI

custom visuals marketplace offers an extensive library of custom visuals developed by Microsoft and the community. It enables users to add specialized visualizations to their reports.

Power BI Embedded allows developers to integrate Power BI reports and dashboards into custom applications by adding a seamless analytics experience for end-users.

Custom connectors of Power BI support users to create custom connectors by allowing them to connect to virtually any data source and expand the platform's data integration capabilities.
Advanced-Data Security and Governance
Take control of your data security, and use Power BI, as it is the best option and helps in offering a strong data governance strategy to empower the business unit and use it as data intelligently. As data governance is integral to Power BI implementation, it helps produce valuable and creative insights. It has robust data security and governance features to protect sensitive information and comply with industry regulations.
What are the features data governance security offers?
One of the features is Row-level security that Power BI offers to allow administrators to define and enforce granular data access policies based on user attributes.

Data classification and protection with Power BI helps to integrate with Microsoft Information Protection (MIP) to enable data classification and labeling. It ensures sensitive data and handles them according to the organizational policies.

Power BI auditing and monitoring has built-in capabilities to enable administrators to track user activities and ensure compliance with data governance policies.

As Power BI is built on Microsoft Azure, it ensures high data privacy and compliance, along with adding various industry standards.
Power BI and the Power Platform
Power BI is an integral part of the Microsoft Power Platform. It's a suite of low-code with no-code tools to enable organizations to build custom applications, automate processes, and analyze data. This platform can help users surface, manipulate, automate, and analyze data used along with Office 365 and D365. 
What are the unique capabilities the platform offers for users?
Power BI integrates seamlessly with Power Apps to help users create interactive and data-driven applications by incorporating Power BI visualizations.

Power Automate integration triggers Power Automate flows based on data changes or specific events to automate processes and actions based on their data insights.

Common Data Service integration provides a unified data layer for organizations using the Power Platform and Dynamics 365.
Why should you use Power BI?
Power BI includes data preparation, an interactive dashboard, and visualization to add to one solution. It helps to make an intuitive tool to interact with data and quickly turn it into insight. A few of the reasons you should choose Power BI are listed below:
Easier to get data together.

Comes with Powerful and excellent performance.

Has custom and open-source visuals.

Data experts can leverage its native R integration.

Enable advanced analytics with familiar excel features.

Brings security and data governance.

Ask questions and get answers.
Conclusion
Power BI has proven itself a leading business intelligence tool that offers advanced and unique features and sets it apart from its competitors. One can improve an organization's business intelligence using robust data preparation and transformation capabilities. Now it's time to get seamless integration with the Power Platform, Power BI, and continues to empower your organizations to unlock the full potential of data and confidently make data-driven decisions.
Are you interested in adding a bountiful advantage to your organization? Talk to our consultant and get started.